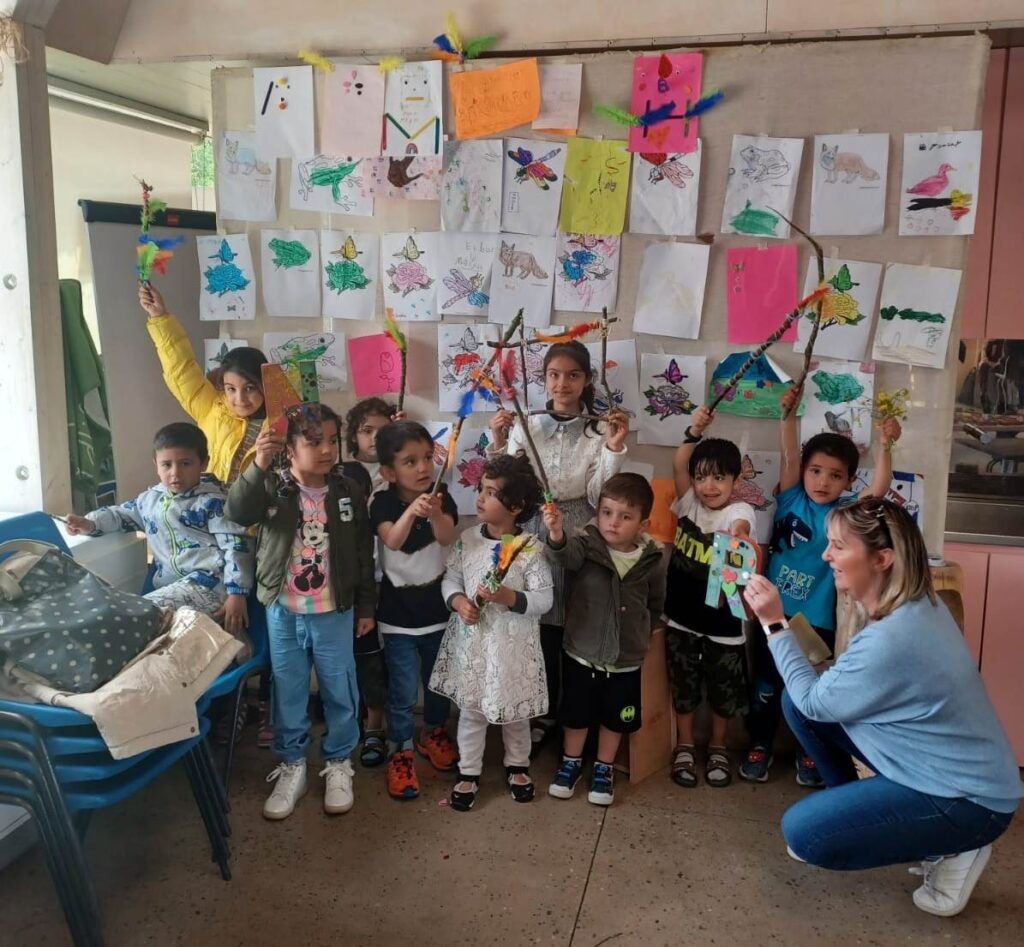 To celebrate Refugee Week 2022, Gateway  hosted an outdoor event at Brockholes Nature Reserve in Preston.  
This took place on 12 June after Gateway received £2000 in funding from Lancashire County Council for activities ahead of Refugee week in which Gateway match funded. The purpose of the event was to build upon existing support connections between refugees, organisations and the local community to support ongoing integration.  
The event was hosted by the Gateway Resettlement team, who have helped 94 refugee families resettle across seven districts in Lancashire since the programme began in 2016. 
Refugees took a leading role in the planning and organising of the event and created two pieces of art; one using the ink-coloured thumb prints on canvas from refugees and organisations who have been involved in their resettlement.  
The other activity involved creating decorated papier mâché model letters. The canvas and models spell out the powerful message 'Refugee Week Healing' to tie with this year's chosen theme for Refugee Week.  The canvas continued to travel around different districts in Lancashire where other refugees and local communities contributed to the unique piece of art. 
The event celebrated refugee contributions to the community, engaging people with different backgrounds and stories to build connections and community cohesion. 
Instar Arnos covered the event on the day, a keen photographer who is studying to be a journalist. Instar came as a refugee with her husband and two children in 2019 and has been an active community volunteer since arriving in Burnley. She is also currently volunteering with The Calico Group as a Digital Champion.  Instar is supporting other refugees and people seeking asylum to access online services to support their integration.  
Maggie Kelly, Resettlement Operations Manager at Gateway, said: "Social connections promote wellbeing and integration, particularly for families who have no family connections in the UK. The event gave refugees a safe yet fun space to connect and build relationships with other refugee families. 
"Refugees with lived experience are best placed to facilitate discussions around their stories to connect with people. It also gives Refugees the opportunity to express their views, work to their strengths and develop new or existing skills including the English language." 
Gateway's resettlement programme provides support for refugee families as they resettle across Burnley, Hyndburn, Preston, Pendle, Blackburn with Darwen, South Ribble and Rossendale. The support includes helping refugees settle and integrate in their new community and securing long-term accommodation for independent living.   
To find out more about Gateway's resettlement programme: https://calicogateway.org.uk/what-we-do/resettlement-programmes/